Tarot Hermeneutics
Teleconference classes are gratis. Sessions every Tuesday 7-9 PM (GMT 12-2 AM Wednesday) No fees or tuition. Drop-ins welcome. Join the conversation to hear what we're reading and discussing.
Pip and Trump Club Notes
Click here for pip and trump Club notes list as pdf files.
Current Tuesday Teleconferences
Cultivating the Sacred Rose Tarot in the Garden of your Soul
Cultivating the Sacred Rose Tarot
Our Tuesday evening, 7 PM to 9 PM Eastern Standard Time, teleconference tarot discussion group which meets weekly and without obligations or fees will begin an open ended intensive study of The Sacred Rose Tarot by Johanna Gargiulo-Sherman. The deck has been a best-selling tarot deck for nearly 33 years. Johanna, who created the deck and its companion guide, will lead us through a number of discussions and exercises about the meaning of the cards and its symbolism: How to work with the deck intuitively for self –inquiry and self-knowledge, as a magical system for transformation and ritual healing work, as well as a means of divination.
Each week we will go through parts of the Guide to The Sacred Rose Tarot with the intent to amplify the magical and psychological symbolism as discussed in the work. We will also systematically study each card in the deck going through its color symbolism as well as the levels of meaning of the images and symbols. There will be some light comparisons with the Rider Waite Smith deck and the Tarot of Marseille images and symbols.
Altogether the purpose of these conversations will be to explore innovative ways of using the deck for fun and profit as well as for prophecy and soothsaying.
As usual for the Tuesday evening classes there are no fees or commitments. People are welcome to call in – and over time will become acclimated to the discussion and conversation of the group. We are a peer led group rather than a directive study class. However in this study because we have the creator of the tarot deck with us, she will keep us oriented to the magical traditions she was utilizing when she created The Sacred Rose Tarot. This group is beginning in January 2014 and will continue studying the material in an open-ended fashion until we feel that we have completed our task.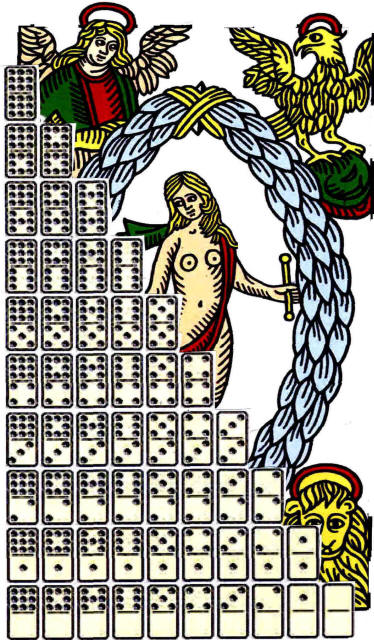 You may contact pnagy(at)tarothermeneutics.com if you have any questions about the class. If you have questions about the tarot deck itself you're welcome to email Johanna Gargiulo-Sherman johannagsherman(at)hotmail.com. The Sacred Rose Tarot is the rose as a "symbol of Western consciousness, similar to the lotus in the East." On the back of the cards are five roses: red, white, blue, gold and starry purple. The artist Johanna Sherman drew inspiration for this deck from Byzantine icons and medieval stained glass windows. Most cards show a prominent figure facing forward in a lush, natural setting. The idea for the Sacred Rose Tarot began in 1977 when Sherman's illustrated business card arrived at the offices of U. S. Games, sparking an interest in her artwork.
http://www.amazon.com/Sacred-Rose-Tarot-Johanna-Gargiulo-Sherman/dp/0880790121 by Johanna Gargiulo-Sherman. She will guide us through an intensive study of the magic and symbolism of her cards.
The Tuesday night teleconference is open to all who wish to participate assuming you want to follow the guidelines of the group which is no more than common courtesy and a willingness to let everyone have their voice about matters under discussion. The teleconferences are more a conversation among friends and does not have the directive intensity of a class. The teleconferences are designed for people who read the tarot avocationally and/or professionally. Besides the material read and discussed, we consult the cards about questions arising during our conversation.
These teleconferences are offered gratis and there are no fees attached or commitments exacted from participants. People are welcome to drop in at any time during the conversation and may address the issues under discussion.
Future topics for Tuesday night teleconference are always open for discussion, in consensus amongst participants.
I have an idea toward exploring the deep structure of the tarot via a close reading of Carl Jung's Psychological Types http://www.amazon.com/Psychological-Types-Collected-Works-Bollingen/dp/0691018138/ . Because Jung uses classical types to delineate personality configurations, his discussion may also profoundly address deeper issues of philosophical attitude, and for tarot readers the deep structure of tarot cards, numerology, and iconology. The purpose of this reading then is not to make tarot an instrument of analytic psychology, but rather see how the fundamental ideas shape the universal significance of tarot as an oracle.
The texts I have in mind may include
Jung's Four and Some Philosophers: A Paradigm for Philosophy by Thomas Mulvihill King (Notre Dame) http://www.amazon.com/Jungs-Four-Some-Philosophers-Philosophy/dp/0268032513/
The Question of Psychological Types: The Correspondence of C. G. Jung and Hans Schmid-Guisan, 1915-1916 (Philemon) by C. G. Jung, Hans Schmid-Guisan, edited by John Beebe and Ernst Falzeder, http://www.amazon.com/Question-Psychological-Types-Correspondence-Schmid-Guisan/dp/0691155615/
Selective readings from William James, Henry Bergson, among others may be included in an ad hoc way. We may also consider some of the classical philosophers who embodied the types and provided early accounts of contemplative experience and the human condition. This would include Heraclitus, Parmenides, Plato, Aristotle, Plotinus, and Proclus. To the degree we tackle these foundational thinkers of the Western tradition we will also constantly refer to tarot reading techniques as fundamental to our dialogue with self and other, knowledge and freedom.
Previous discription:
We read and discuss these in turn the first hour of our call. The second hour is devoted to exercises in reading and interpretation with your own tarot deck.
As usual we proceed collegially, sharing responsibility for adapting and understanding the material. Because of our open-ended, topic-driven approach, we can speed up or slow down as our consensus develops around the ideas encountered.
This is a free teleconference and people are welcome to call-in whenever they want or can to participate. However when new to the calls, take some time to listen and figure out where the group is and then freely contribute as you want.
From time to time other special material will be considered. Most weeks I send out a reminder notice whch will alert you to changes in topic or other news. Email me with your email address you want to receive these reminders. Likewise send the email address to me again when you want to be removed.
The books and decks dealt with:
(I recommend you purchase any items you do not have from the authors' themselves.)
New Tarot Essays:
Rough Notes Tarot & Pater Noster
Reading with Tarot Dynamics Unleashed by Anna Burroughs Cook, review by Paul Nagy
Udde's Fall by Camelia Elias, with contribution by Paul Nagy
---
Past classes interviews, reviews, and initiatives.
Tasking the Masque of Tarot: A Study of Enrique Enriquez's Tarology, a weekly teleconference is now concluded. Click for details
Mary-El
A instant classic tarot by artist Marie White, the Mary-El Tarot is finally published in 2012. I suspect the prestige of this deck will spread among tarot readers as time passes. a href="tarotliterature/maryel.html">Listen to Marie discuss her deck and offer some readings with Paul Nagy and Audery Layden. Download MP-3 recording here.
Please Note download MP-3 recording. Do not listen to them on-line as live-streaming as this creates great expense in file data transfer rates that I pay for. Such inordinate expense will cause me to have to shut this website site down. I have disabled live streaming. You may download the file as is and then add '3' to the file extension to activate it on your computer.
Camelia Elias December 14, 2011 wrote an experimental piece, Udde Falls on traditions of reading different decks. For comparative purposes I wrote a version of the story based on the RWS. The same article minus my contribution appeared in Tarosophy International #13. See the extended version here.
The Waite-Trinick Mystical Tarot: An Exploration of of its Symbolism, Imagery and Spiritual Exercises. Classes completed.
See here for class notes and reference materials
. Also you are welcome to download audio mp-3s of teleconferences.
Listen to Marcus Katz discuss his published Journal, After the Angel. Podcast Broadcast July 11, 2011 on Carolina Book Beat.
After The Angel: An Account of the Abramelin Operation by Marcus Katz M.A. with a preface by Lon Milo Duquette (Forge Press) The Abramelin Operation, a mysterious 15th century manuscript, promises nothing less than to give the successful practitioner of its instructions the knowledge and conversation of their personal Holy Guardian Angel. Following a six-month ordeal of intense practices, the ritual is also said to give the Operant magical powers, control of demonic forces and the use of the infamous magical squares and talismans whose abuse would otherwise cause insanity or dire spiritual consequences. In this landmark publishing event of the western esoteric tradition, the inner workings of its most profound and demanding spiritual ritual are fully revealed. Join modern magician Marcus Katz in a timeless journey to complete the 177 days of intense magick whilst living within a contemporary life. Find out more at http://www.aftertheangel.com.
See my interview about Tarot with Enrique Enriquez
This interview was especially moving for me as Enrique and I had a good chemistry about binging the playful as well as the learned aspects of tarot.
Previous Special Programs that were Recorded:
Based on her legendary Sacred Rose Tarot this class offers some magical wrinkles.
Based on many years of study of Master Numbers and the Court Cards.
---
See my interview about Tarot with Enrique Enriquez
This interview was especially moving for me as Enrique and I had a good chemistry about binging the playful as well as the learned aspects of tarot.
---
You are interested in having a tarot reading, but you have never consulted a tarot reader before and you would like to know what to expect in general.
I am developing classes to teach this tarot hermeneutics approach to learning about the tarot. If you see any that spark your curiosity let me know as only the classes that attract some critical mass of inquirers are likely to be taught.
You are welcome to view and listen to a recording of the Survey class below.
Sample survey class as introductory to Teleconferences classes. Most classes will not be recorded at this time.
Rev. Paul Nagy, Spiritual Friendship and Tarot Consultations by appointment in person, by phone or on Internet. Contact info
Welcome
This website is new and is under development. Below is the general scope of services that are offered. Feel free to contact Paul (at) wordtrade.com if you are interested in a reading or are inquiring about a teleconference class. Many of hyperlinks are not now working but will be soon as content is developed for this site.
Paul Nagy has been reading tarot for well over 40 years. He is an ordained minister who has a spiritual friendship ministry. Spiritual friendship is the mutual practice of conversation to clarify who we are and what we want in life. It is a form of collegial self-inquiry as a quest for spiritual roots and coming to balanced relationships with our self, our friends, family and acquaintances. Our business and professional life, and our ideals, our creative pursuits and ultimate concerns are also addressed.
Tarot Readings
Paul uses tarot for short term and issue oriented questions. It is a simple fee for service enterprise that usually helps to clarify and reframe issues in someone's life.
These tarot readings are for fun and entertainment, though the card symbols can bring up any number of profound life issues.
Spiritual Friendship
Spiritual Friendship is a sacred relationship. It is a unique possibility between friends oriented toward the divine that is not easy to characterize.
Spiritual Friendship can be described as a mutually agreed upon relationship where both client and minister pay attention to the mysteries of life and, in intimate, conversation explore what emerges.
Formally there is usually a contract that stipulates minimum time and resource commitments. Paul works with many forms of prayer, meditation, poetry, journaling, arts as well as periodic conversations.
In his ministry Paul requires a small stipend in addition to a volunteer service commitment by the client to some community organization of their choice.
Paul's style of ministry is nondenominational. Because of his diverse religious experience and background Paul is quite likely to be able to work within your own spiritual tradition, or be able to give you a good referral.
Tarot Classes for the Beginner
There are many superb beginning tarot classes and opportunities. Paul occasionally offers beginning classes. However he does suggest some books and some other websites for beginning students.
Tarot Services for Tarot Professionals
Paul is dedicated to serving the community of tarot readers to better develop their reading skills. Paul believes that all levels of readers can mutually empower and enrich one another by sharing card meanings and other exercises with one another. The following topics represent current projects in development.
Fees are kept to a minimum in order to encourage wide participation. Because we follow a collegial model, the purpose is to learn from one another. Scholarships are available. Though most of these courses are for people who have a general working knowledge of tarot, anyone with a rudimentary knowledge of tarot can benefit and profit by participation.
When reading the tarot cards, each card carries with it an ethical implication that may or may not be appropriate to a particular reading. One can say that each card has a prohibitive and beneficial ethical dimension. The prohibitive ethical dimension is what one is forbidden to do because it causes self or other harm. The beneficial ethical dimension suggests positive steps to enhance the general good of self and others. Ambiguities and conflicts can easily arise as the cards are laid out.
There is a level of ethics for professional and or proficient tarot readers as practice guidelines and a more general stipulation of ethics for the practice of hobbyist tarot readers. These guidelines should be clearly stated for clients to consult. See my discussion and personal professional code, and proposed classes.
Teleconferences and Workshops
The development of tarot hermeneutics happens through the organization of teleconferences and website chats. Also interpersonal workshops and retreats are organized and developed as the need arises. Some current projects are listed below:
Meditations on the Tarot by Anonymous is a weekly teleconference, on Wednesdays from 10 AM to 12 noon. The teleconference is open to anyone who has the time and inclination to study this important book of Christian Hermeticism. See here for more about author. There are no fees for this study at this time.
Workshops in Tarot Interpretation
Tarot hermeneutics is a unique analytic and synthetic practice of developing tarot reading skills. After learning the basic meaning of tarot cards one can begin deductively applying tarot card meanings to various sacred and literary texts as a means of exercising the symbolic imagination. Eventually inductive styles are introduced to the study of the texts and the card meanings.

Various workshops are offered to introduce this approach to understanding and developing tarot reading skills.
Sacred Tarot Interpretation
Sacred texts from various religious traditions are studied using the tarot cards as a grid for understanding the various levels of meaning in the texts and how this reflects on the nature of tarot interpretation generally.


Paul and some others are in an ongoing Study of the Gospel According to John as it relates to the development of tarot meanings for understanding the gospel itself and how the Gospel throws light on the esoteric dimensions of the major and minor Arcana of the tarot.
Literary texts are used in the application of the tarot layout in card meanings to novels and short stories from any genre as a way of developing objective skills in tarot interpretation and application. Workshops usually use short texts as a means of demonstration of how the technique can be developed.


Paul encourages the use of complete texts for an enriched experience of developing inter-reflexive tarot interpretations. It also helps to work on texts in teams so that various ways that people approach the card meanings can help all participants to further their own understanding.
Premium Tarot Services for Professionals
Beside my own efforts reflected here, I recommend these tarot readers, schools and websites and groups. In each case these are readers or groups I know and have worked with personally and, in some cases, professionally. They represent mainstream and cutting edge tarot practice and theory. Tarot is much too rich and diverse these days to be easily summed up in a simple book or in one or another approach, no matter how touted as comprehensive.
Whether you decide to participate in these projects or not, I encourage you to study tarot as a means of engaging in the quest for self-knowledge through symbolic inquiry.
In many ways we, as a society addicted to technological notions, have lost the ability to understand the primacy of symbols, not only as a bridge to the unconscious but as a beacon of the multivalent consciousness: the means and end of personal and collective creative freedom.
The tarot is one way by which one may enter into this dynamic world of spiritual and personal discovery. There are other ways. One should follow the inclinations of one's heart. I hope you find your way into the thrall of this mystery with grace and serenity, joy and beauty. Blessed be.