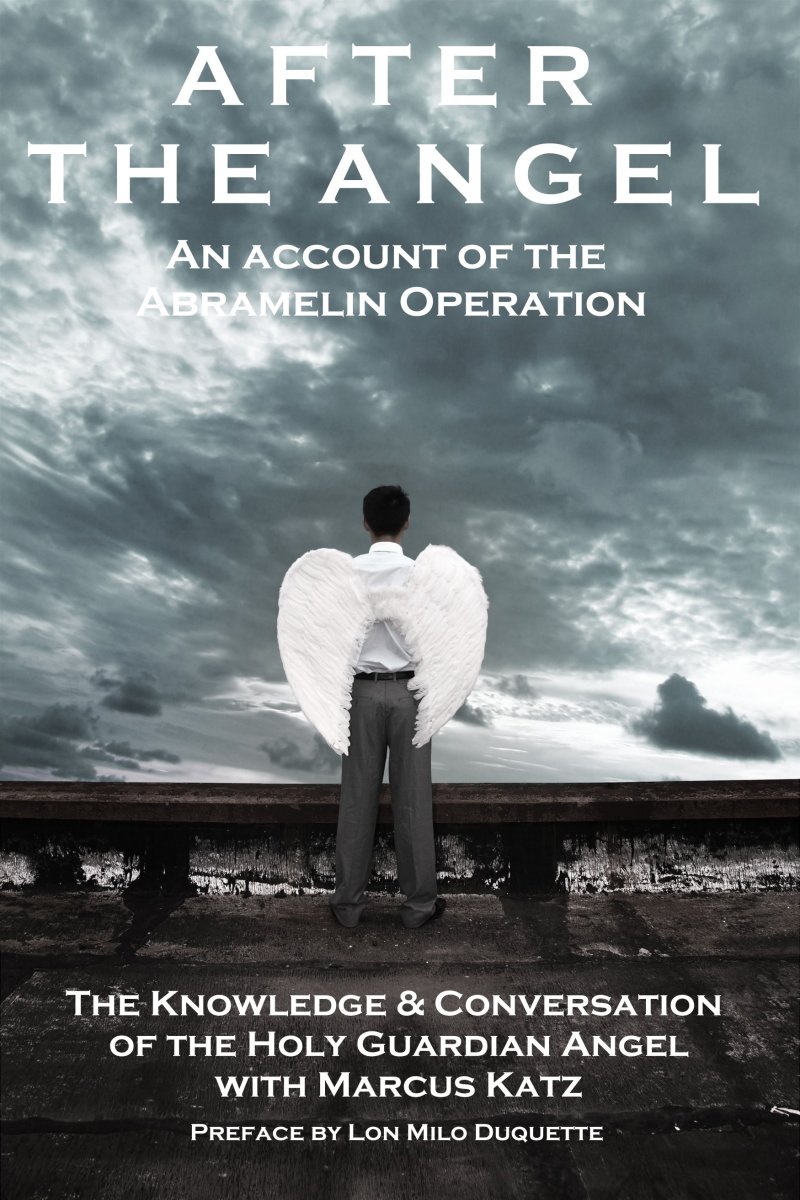 After The Angel
An Account of the Abramelin Operation
By Marcus Katz M.A. with a preface by Lon Milo Duquette.

Is it possible to gain the knowledge and conversation of your Holy Guardian Angel?

The Abramelin Operation, a mysterious 14th century manuscript, promises nothing less than to give the successful practitioner of its instructions the knowledge and conversation of their personal Holy Guardian Angel. Following a six-month ordeal of intense practices, the ritual is also said to give the Operant magical powers, control of demonic forces and the use of the infamous magical squares and talismans whose abuse would otherwise cause insanity or dire spiritual consequences.
In this landmark publishing event of the western esoteric tradition, the inner workings of its most profound and demanding spiritual ritual are fully revealed. Join modern magician Marcus Katz in a timeless journey to complete the 177 days of intense magick whilst living within a contemporary life.

In 2004, after thirty years of preparation, the author performed this working whilst maintaining a full daily journal. Within the course of six months, it would utterly change his life, his home, his career, and his family. It would produce miraculous events that took a further seven years to comprehend. It would turn reality inside out and reveal great mysteries of the divine world and our place within the Universe.

Only one other journal of this type has ever been widely published. Now, after almost forty years, After the Angel brings the Operation directly to a modern readership. This complete journal, packed with unique reference boxes, commentaries, footnotes and reading lists explaining key terms of the western esoteric and spiritual path, will take you on an unparalleled journey into the very heart of western magick and spirituality.
Most people wonder what it would be like to contact their Angel. In this incredible document you will be taken to that moment and far beyond … after the Angel.
Now Available: £14.99. 208pp. Hardcover with dustjacket. Pub. Forge Press, Easter Sunday, 24th April, 2011.
BUY THIS BOOK HERE FROM FORGE PRESS.
Reviews & Recommendations
"A magic carpet ride through 177 Groundhog Days, composed of an eternity of a Desolation Row-like hard rock symphony of spiritual practice performed by an intelligent, inspiring, erudite English Mystic. A joy to read which also opens your own hidden treasures of spirit. This is a seductive tract in which you will experience the greatest magical operation ever created". Georg Dehn, compiler & editor, The Book of Abramelin.
"Marcus Katz is one who knows, where others can only dream". Rachel Pollack, award-winning author of 78 Degrees of Wisdom and 12 books on the Tarot.
"Changing the landscape of esoteric teaching." Greg Kaminsky, Occult of Personality Radio Show.
With a preface by leading author and speaker on the Western Magical Tradition, Lon Milo Duquette:
"The intense and heroic magical operation that Mr. Katz performed and that he so ably describes in his book was created by the magician, Abraham of Worms (c.1362 – c.1558), to trigger a tangible and objective mystical experience – an eyes-wide-open moment of ecstatic union even more real, life-altering, and memorable than one's first romantically charged adolescent kiss. It is the ultimate consummation devoutly to be wish'd."

"What is especially valuable about the way Mr. Katz has applied the Abramelin operation to his own life, is the way he performed this 'magical retirement' amid the distractions and the madding crowd of his everyday/work-a-day world. I believe he succeeded in striking this delicate balance that is so necessary if one desires to ascend to heavenly levels of consciousness while not prematurely abandoning one's incarnational responsibilities, and opportunities."
Marcus Katz holds an M.A. in Western Esotericism from the University of Exeter and is a teacher of Western Esotericism, Tarot, Witchcraft and Thelema at the Far Away Centre and online. He is the author of Tarosophy, a Tarot book described as "genius" and "a significant contribution" to the tradition, and many other titles under progress or in production.
Contact the Author at mailto:enquiries@farawaycentre.com
Mirror of http://www.tarotprofessionals.com/angel/